I made a few wishlist purchases on Anthro Day last Saturday that I am so very happy with. Check them out below.
~ Draped Plaid Top
, Medium, by Maeve ~
Maeve is one of my favorite brands at Anthropologie. I can always find something I love made by Maeve. This Draped Plaid Top is no exception. Yes, it's Polyester but the blue and brown plaid were something I couldn't take my eyes off of. I think it's the perfect transition into Fall.
The back is where the drape is, off-center to the right. There is a little snap closure inside to keep the two pieces together.
Here is the drape un-snapped and pulled open by me. Since this is boxy the Medium was a perfect fit. There are times when I can size down in Maeve but I've realized that the shape and material make the difference in that decision.
I must confess that the styled image is what sold me on this shirt. I even bought the shoes, the
Terah Heels
, and almost bought the
jeans
so I'd have the right items to copy the look. I never do that. I do have several jeans to substitute but I just love this whole look.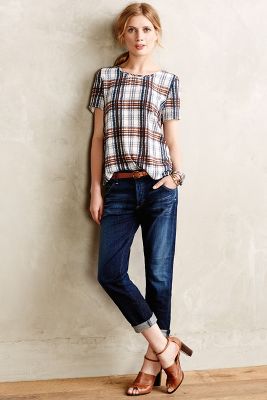 ~ Torres Dress
, Petite Medium, Bailey 44 ~
The Torres Dress was sitting in my wishlist and I regret not purchasing it with my birthday discount. This dress was the first item in my cart on Anthro Day. I am so glad I ordered the Petite. The length would have been below the knee had I gotten the regular Medium. I love Bailey 44's dresses. I have another that is fitted all the way to the hem. I like that the Torres Dress is a little more flared/A-line at the bottom. It makes for a nice work dress with a little cardigan or blazer over.
What did you get on Anthro Day? Anything from your Wishlist?
Follow me on…